Underground Heating Oil Tanks
That Old Heating Oil Tank
Abandoned and Decommissioned?
Underground storage tanks (UST) that are used for heating oil are common in this part of the county. A modern oil furnace can be efficient and is a competent source of heat.

However, because of a prevailing negative attitude toward heating oil, this heat source is often replaced with gas or electric. When the oil tanks are abandoned many times they are not properly closed or abated. The tanks should be properly decommissioned when taken out of service. This is done by a specialty contractor and includes:
Obtaining permits from the local Fire Department
Pumping all unused oil
Triple rinsing the tank
Capping the fill spout and removing the vent
Filling with foam, sand, or slurry
Preparing a Decommissioning Certificate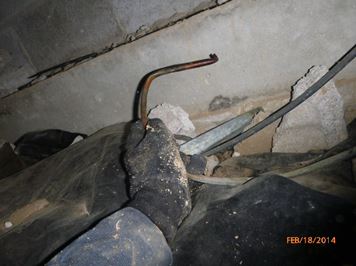 The Decommissioning Certificate is a letter from the contractor acknowledging that the work was preformed in compliance with local Fire Department rules. The Decommissioning Certificate is also frequently required as part of the sale of the property.
Sometime the tanks have been half decommissioned without the proper procedures. We frequently see evidence of past use of oil heat during our inspections, such as unused vent pipes, or copper fuel lines in the basement or crawlspace. In these cases, some investigation is needed to determine if the tank has been properly decommissioned.
Criterium-Pioli Engineers specializes in home and building inspections. We are staffed with licensed professional engineers. Please feel free to contact us for more information about abandoned, underground heating oil tanks.